G-Scan Tab.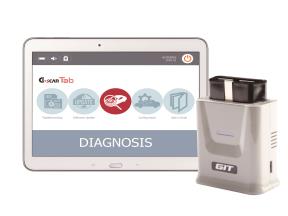 G-Scan Tab.
ΚΑΙ ΜΙΚΡΟ ΚΑΙ ΠΑΝΙΣΧΥΡΟ.
Ασύρματη επικοινωνία μεταξύ εργαλείου και οχήματος. Τεχνολογία με χαμηλό κόστος αγοράς που στηρίζεται στην χρήση Η/Υ τύπου ταμπλέτας ή φορητού Η/Υ με λειτουργικό Windows  και τεχνολογία Bluetooth. Έχει την ίδια διαγνωστική κάλυψη με το θρυλικό G-Scan και G-Scan2. Με τεράστια διαγνωστική κάλυψη που διαρκώς ενισχύεται, το G-Scan Tab αποτελεί την καλύτερη λύση για το σύγχρονο συνεργείο.
SMALL BUT POWERFUL.
No more diagnostic cables between your scan tool and a vehicle. G-scan Tab is an affordable Tablet PC based diagnostic solution with Bluetooth technology. G-scan Tab shares the same database with legendary G-scan and G-scan2. With already massive, yet constantly growing coverage, you can enjoy G-scan's brilliant software with choice of your own Windows based device.
ΕΥΚΟΛΗ ΑΝΑΒΑΘΜΙΣΗ.
Όταν η Ταμπλέτα ή ο Η/Υ  είναι συνδεδεμένα στο διαδίκτυο, το λογισμικό του G-Scan Tab συνδέεται με το διακομιστή της GIT, ελέγχει για καινούργιες αναβαθμίσεις και βελτιώσεις, σας ενημερώνει αυτόματα και εσείς με το πάτημα ενός πλήκτρου ενημερώνεται τη διαγνωστική βάση δεδομένων  του εργαλείου σας.
SMART UPDATE.
When your tablet or PC is connected to the internet, G-scan Tab automatically connects to the GIT server through the internet, checks for available new updates and patches and automatically let you know. The only think you can do is to press a key and your diagnostic database will be up to date.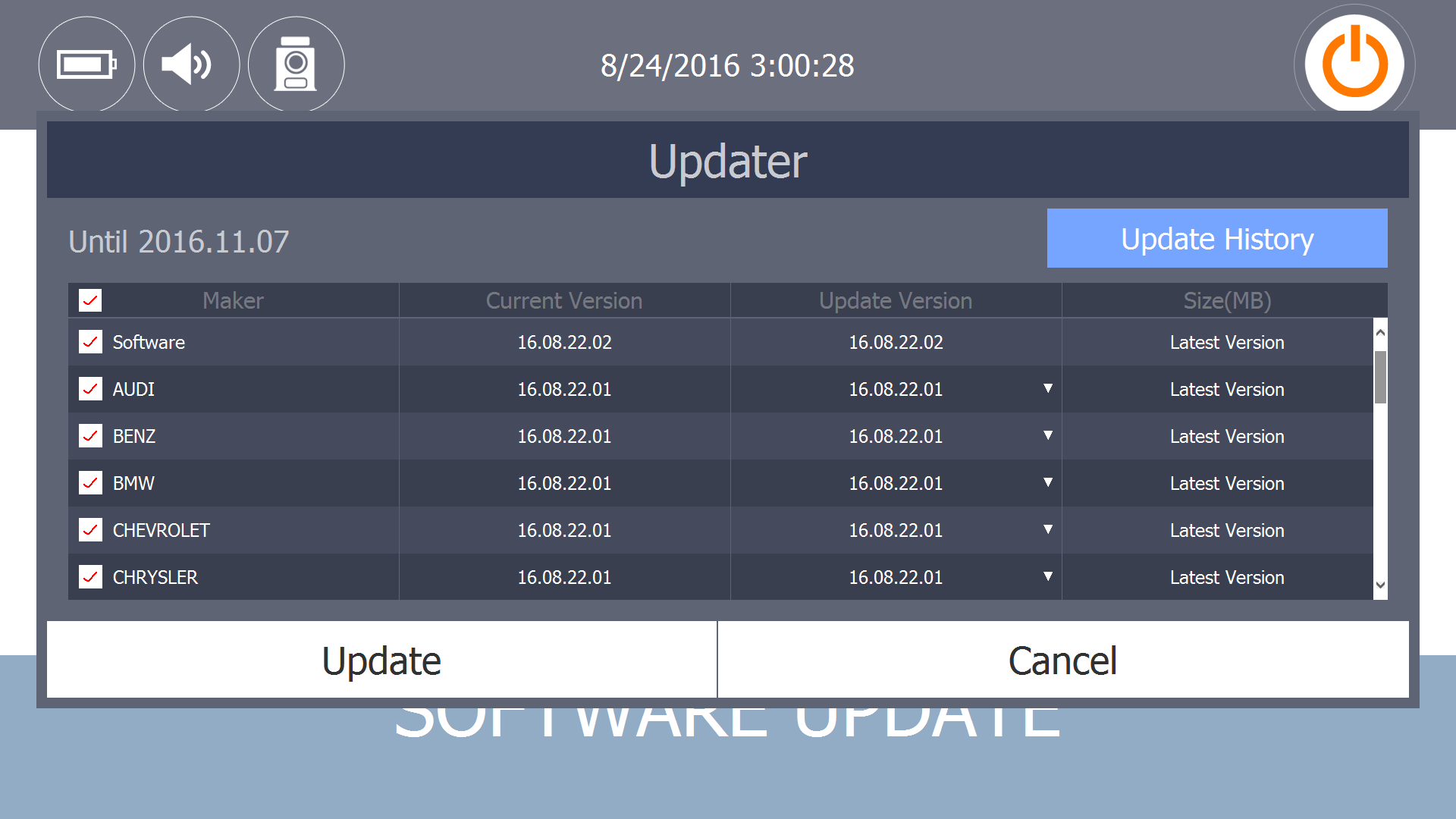 ΑΥΤΟΜΑΤΗ ΑΝΑΖΗΤΗΣΗ ΣΥΣΤΗΜΑΤΩΝ.
Με την επιλογή Αυτόματης Αναζήτησης, το G-Scan Tab θα ελέγξει την παρουσία όλων των πιθανών συστημάτων και θα αναφέρει ποια περιέχουν κωδικούς βλάβης και ποια όχι. Αυτό θα απλουστεύσει την διαγνωστική διαδικασία  και θα την κάνει αποτελεσματικότερη και πιο αποδοτική.
SYSTEM AUTO SEARCH.
"System Search" option automatically checks all vehicle possible systems and will report which are contain fault codes or not. This will make diagnostic procedure more fast, accurate and profitable.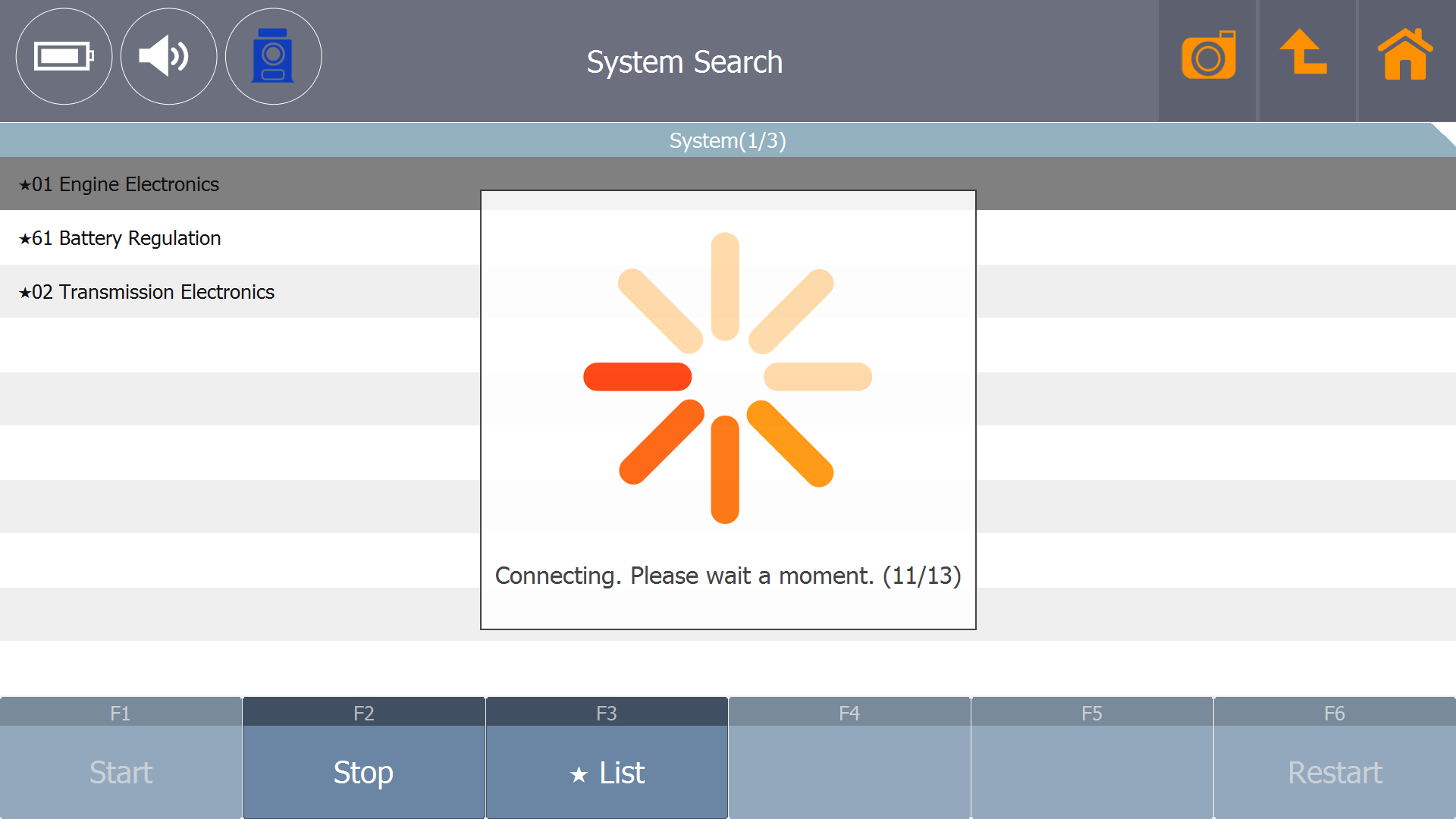 ΖΩΝΤΑΝΕΣ ΜΕΤΡΗΣΕΙΣ.
Μια βασική διαγνωστική λειτουργία είναι και οι Ζωντανές Μετρήσεις. Το G-Scan Tab παρέχει όλες τις ζωντανές τιμές που δέχεται ο εγκέφαλος απο τους αισθητήρες αλλά και τις εντολές που αποστέλλει στους ενεργοποιητές του συστήματος. Μέσω αυτών ο τεχνίτης μπορεί να παρατηρήσει " αόρατες" δυσλειτουργίες ή βλαβες του συστήματος.
LIVE DATA.
As one of the basic diagnostic functions, G-scan Tab provides live data enabling technicians to monitor the system control unit's input and output values. Through these values technician can observepossible "invisible" malfunctions of the system.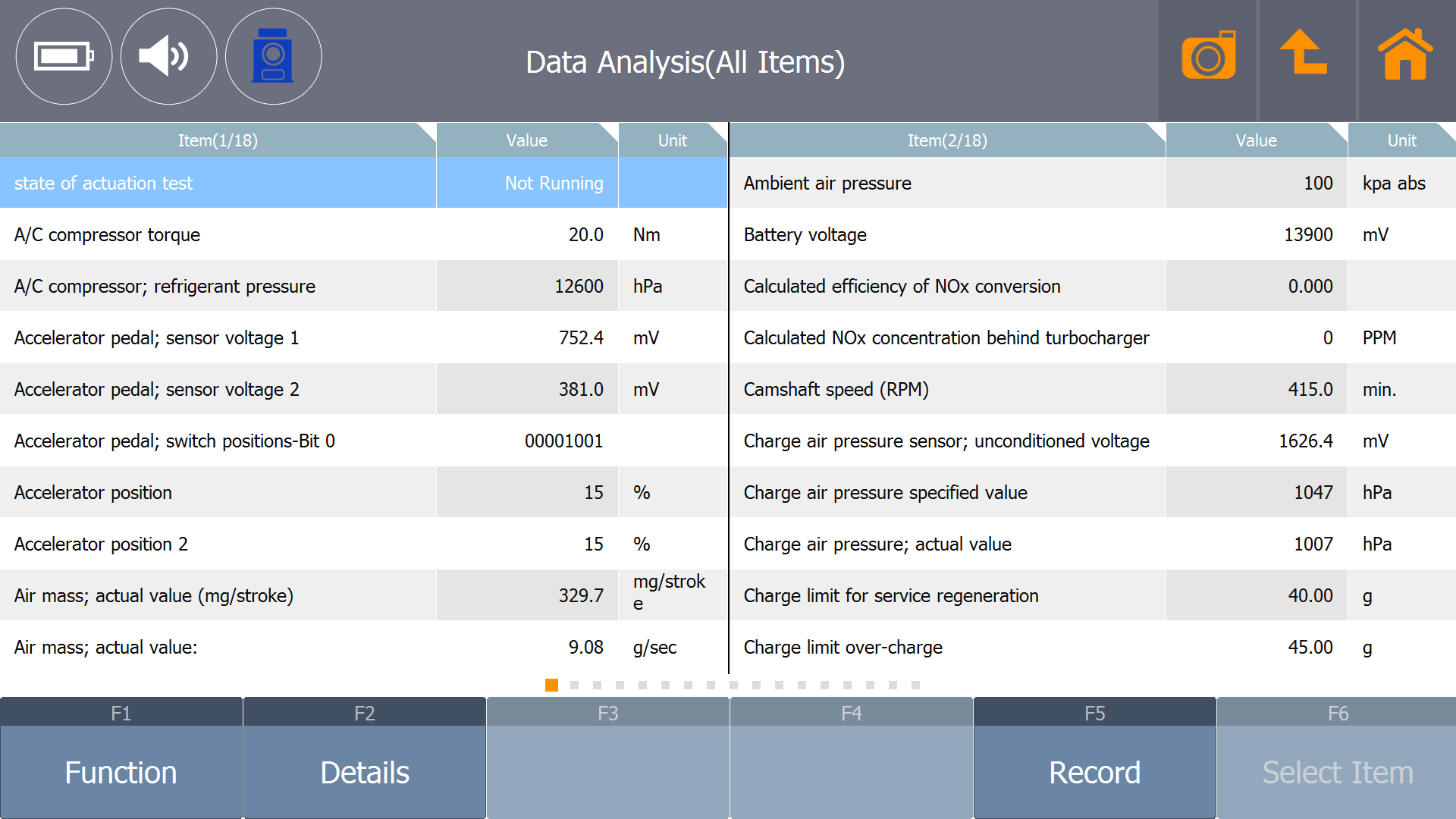 ΕΝΕΡΓΟΠΟΙΗΣΕΙΣ ΠΕΡΙΦΕΡΕΙΑΚΩΝ.
Ή επιλογή Ενεργοποίησης Περιφερειακών αποτελεί ακόμη μια βασική διαγνωστική επιλογή του G-Scan Tab. Ο τεχνικός μπορεί να παρατηρήσει την λειτουργία περιφερειακών εξαρτημάτων με το πάτημα ενός πλήκτρου χωρίς να χρειαστεί να το αφαιρέσει ή αποσυναρμολογήσει από το σύστημα.  
ACTUATION TESTS.
Actuation test is another basic diagnostic function that G-scan Tab provides. The technician  can check the operation of any system component by activating or deactivating it  without having this been removed or disassembled from the system.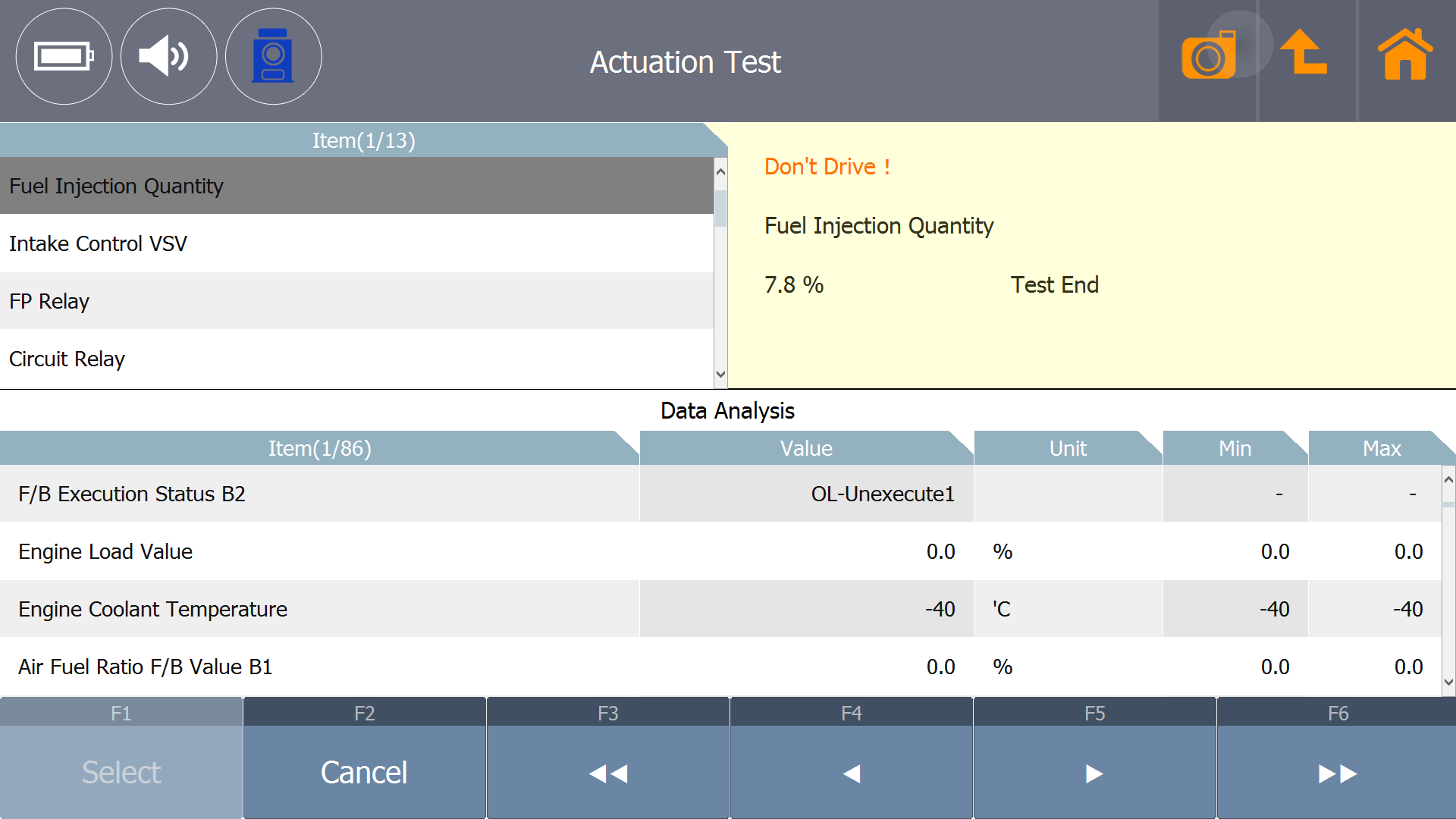 ΕΙΔΙΚΕΣ ΛΕΙΤΟΥΡΓΙΕΣ.
Επιπρόσθετα από τις προηγούμενες λειτουργίες  του G-Scan Tab, στο μενού " Ειδικές Λειτουργίες" έχουμε την δυνατότητα να εκτελέσουμε κωδικοποιήσεις, αρχικοποιήσεις και εκμάθηση διάφορων εξαρτημάτων και περιφερειακών όπως κωδικοποίηση ψεκαστήρων καυσίμου, αναγεννήσεις φίλτρων αιθάλης (DP Filters), ρυθμιζομενα μπροστα φώτα, αισθητήρες πλευρικής επιτάχυνσης εκμάθηση νέων κλειδιών και πολλά άλλα.   
SPECIAL FUNCTIONS.
In addition to the basic functions of DTC read/erase, Live Data, Actuation Test and ECU info, G-scan Tab provides various coding, learning and Initializing functions like injector coding, DPF regeneration, initialization of front lights, initialization of lateral sensors, new key coding and many more.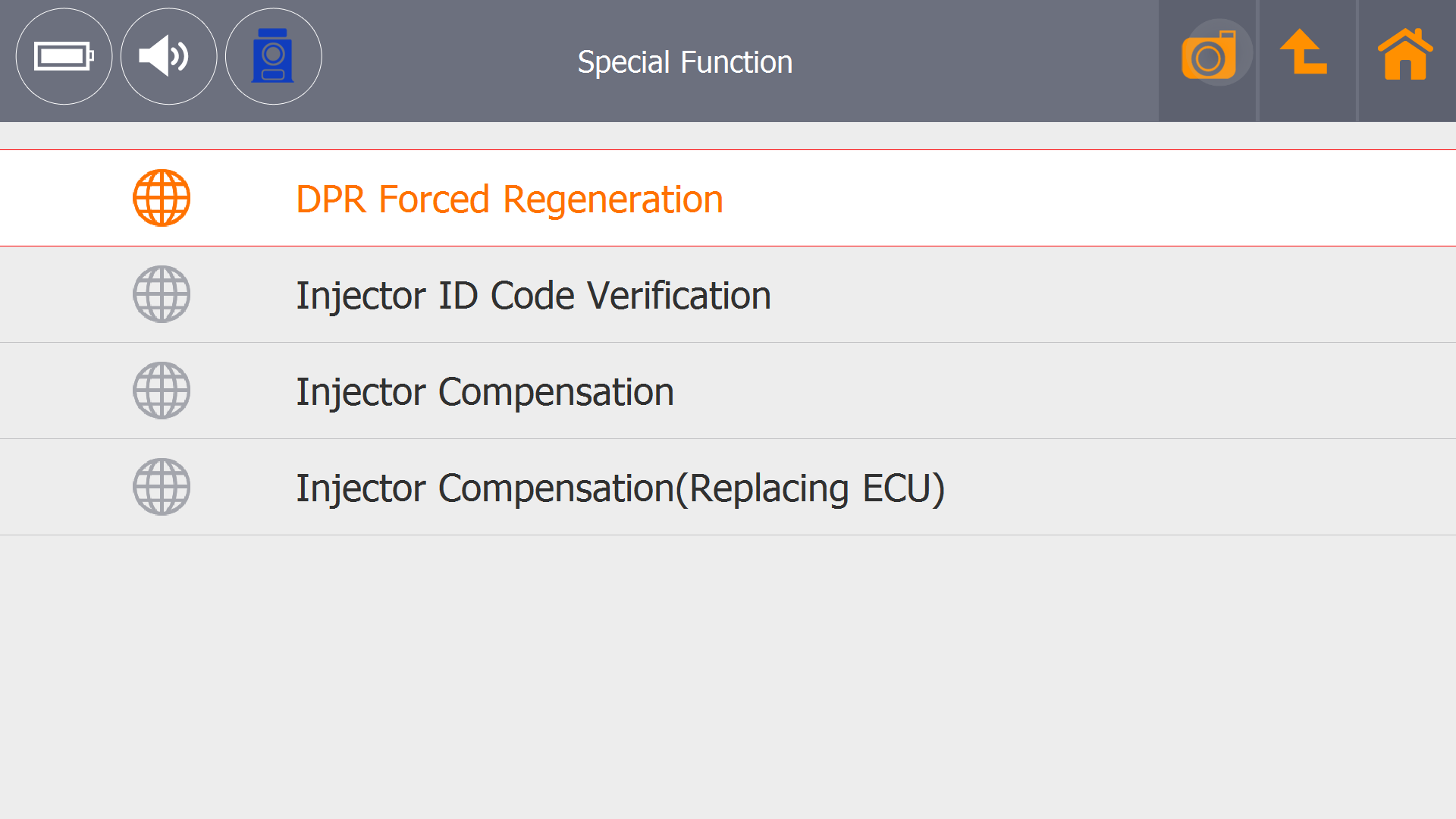 ΠΕΡΙΓΡΑΦΗ ΚΩΔΙΚΩΝ ΒΛΑΒΗΣ.
Το G-Scan Tab με ένα μεγάλο πεδίο περιγραφής κωδικών βλάβης (250+ χαρακτήρων), δίνει αναλυτική περιγραφή και επεξήγηση του προβλήματος. Τέλος στις περιγραφές μέσω δυσνόητων  λέξεων και ακρωνύμιων.    
TROUBLE CODE DESCRIPTION.
DTC read and understanding is one of the primary aims of G-scan Tab. Through a code description field of 250+ characters, G-Scan Tab provide full description of trouble codes, no more acronyms or difficult to understand phrases due to limited space.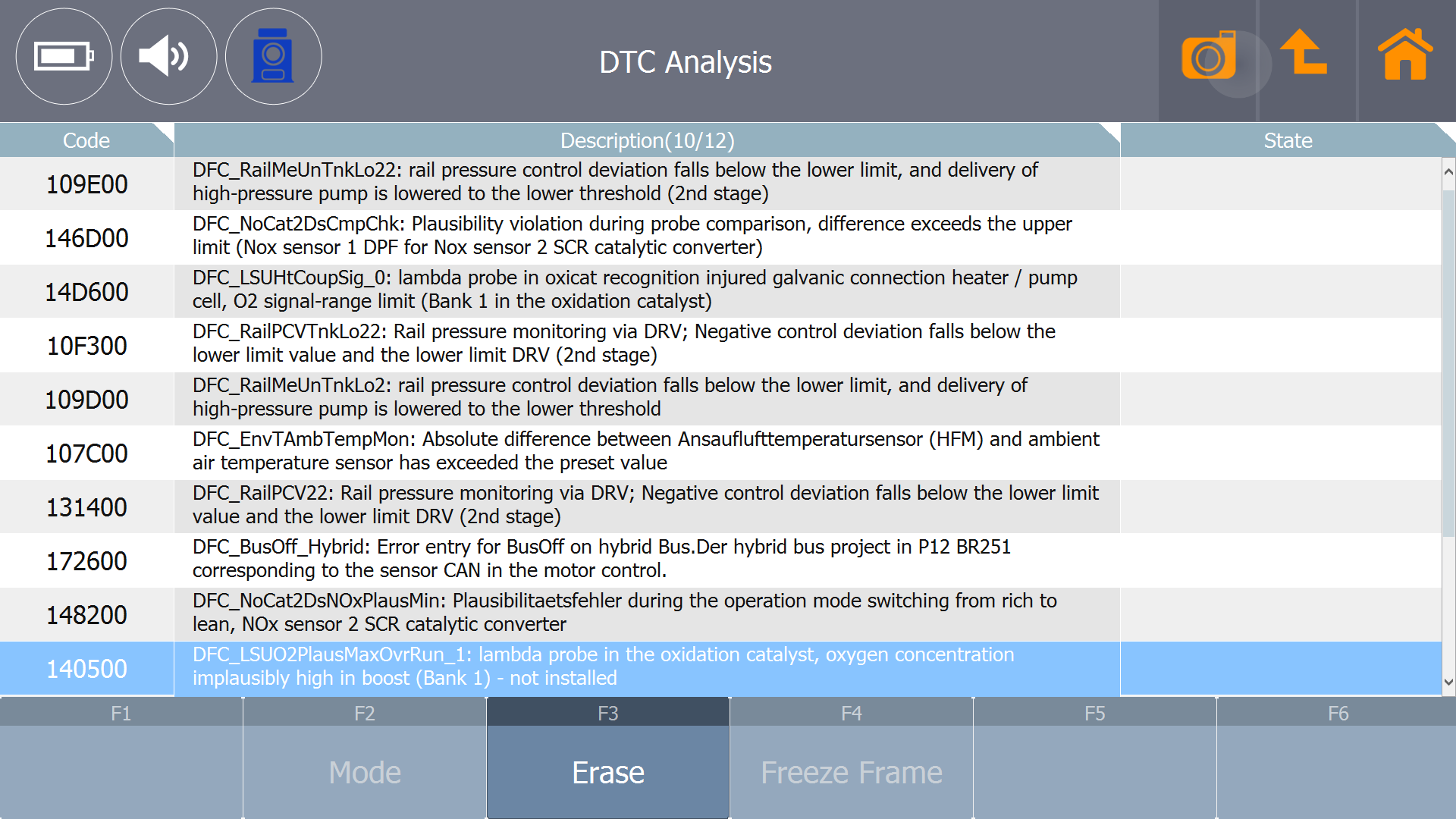 ΑΥΤΟΡΥΘΜΙΖΟΜΕΝΕΣ ΓΡΑΦΙΚΕΣ ΠΑΡΑΣΤΑΣΕΙΣ.
Οι αλφανουμερικές ενδείξεις των Ζωντανών Μετρήσεων, μπορούν εύκολα και απλά να μετατραπούν σε Γραφικές Παραστάσεις. Οι ελάχιστες και μέγιστες τιμές είναι αυτορυθμιζόμενες και θα βοηθήσουν τον τεχνίτη να κάνει γρήγορη και εύκολη συγκριτική παρατήρηση όλων των τιμών των περιφερειακών του συστήματος.   
AUTO SCALE DATA GRAPHING .
Alpha-numerical value of live data can be switched to fast and responsive graph mode by a simple click. It instantly self-adjusts max and min scale helping technicians to more accurately observe and compare the live parameters.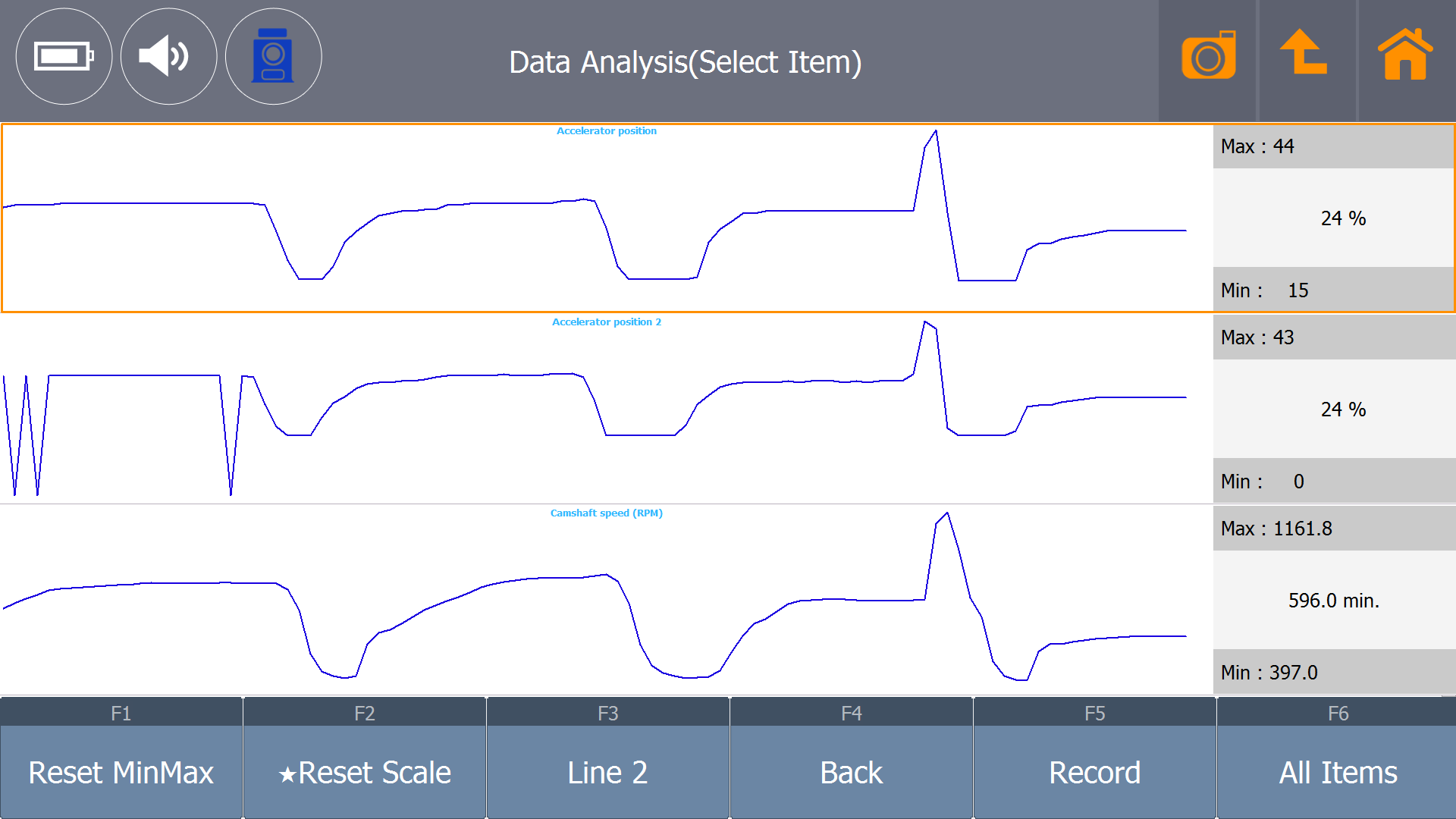 ΔΗΜΙΟΥΡΓΙΑ ΑΡΧΕΙΩΝ ΚΑΤΑΓΡΑΦΗΣ.
Αν τεχνίτης παρατηρήσει αδυναμίες ή λάθη στο λογισμικό, ή ακόμη εντοπίσει περιθώρια βελτίωσης του, μπορεί απλά να δημιουργήσει ένα Αρχείο Καταγραφής το οποίο θα περιέχει όλη την επικοινωνία του διαγνωστικού λογισμικού και του λογισμικού του συστήματος του οχήματος και να το αποστείλει αυτόματα στους τεχνικούς της GIT για περαιτέρω ανάλυση και βελτίωση.  Η ανταπόκριση θα είναι άμεση εντός 24 ωρών από τεχνικό ανάπτυξης προγραμμάτων της GIT.   
DATA LOG AND DIRECT DATA FEEDBACK.
In case of software error or failure, technicians can log bi-directional data transmission between G-scan Tab and the vehicle. Log data can be sent to the engineers directly from G-scan Tab, which is responded within 24 hours on working days.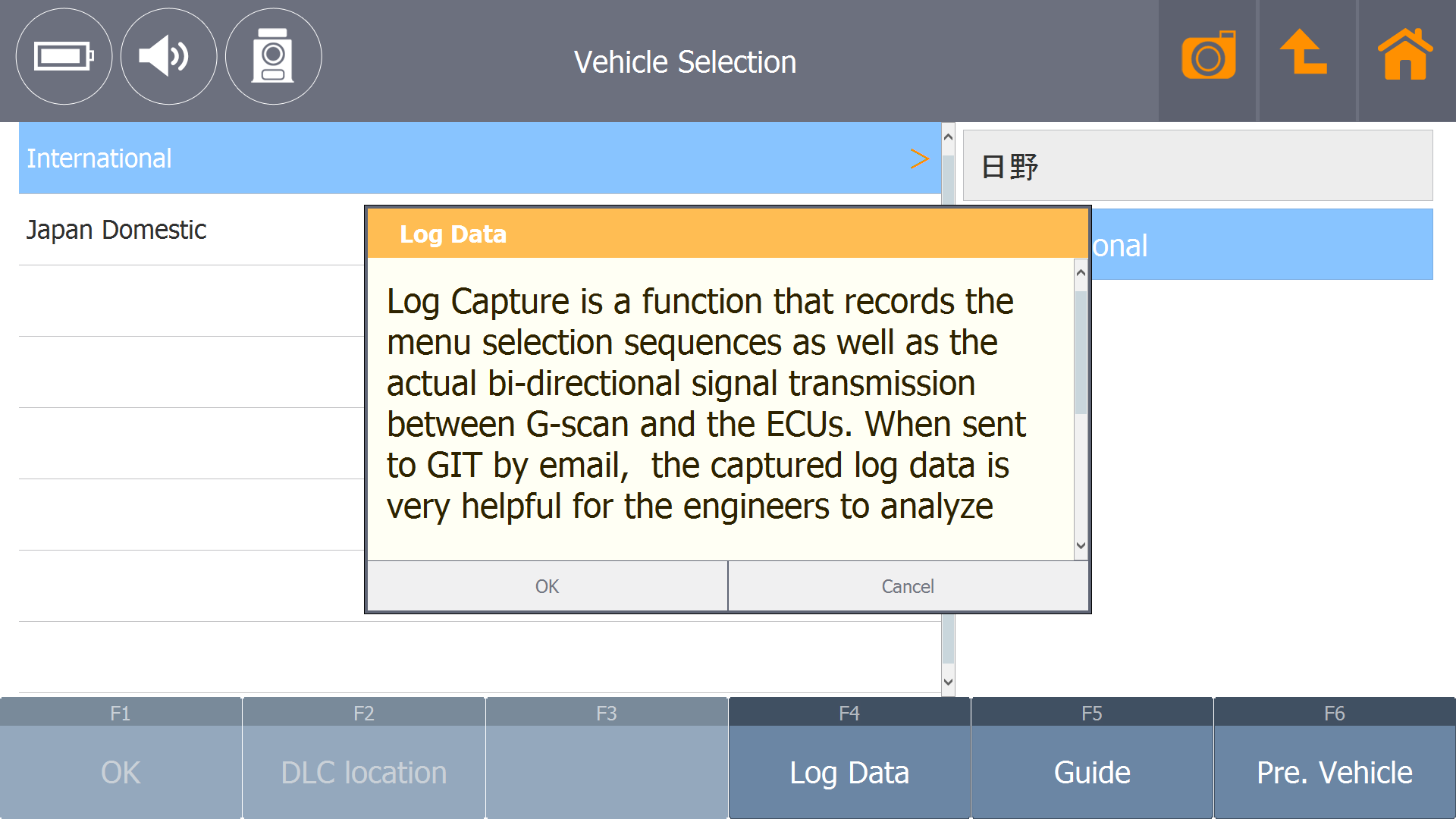 Write a Comment
Fields with * are required